United King Signs Up for ABHI's Comprehensive Financial Solutions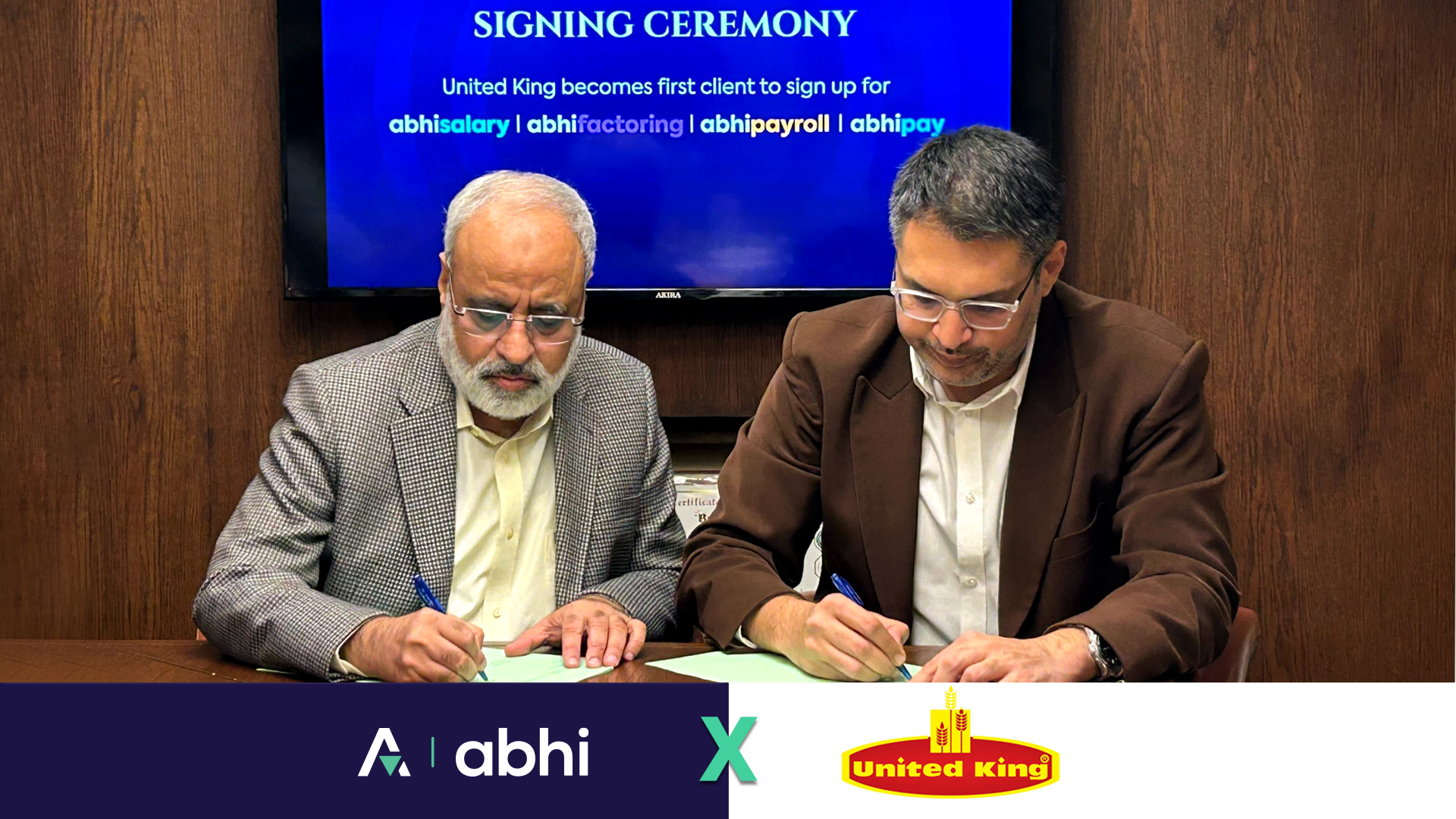 United King, a leading bakery with multiple locations across Karachi, becomes the first client to partner with ABHI, an embedded finance company, to sign up for all of ABHI's financial wellness solutions; AbhiSalary, AbhiPayroll, AbhiFactoring and AbhiPay.
United King recognizes the importance of instant payroll, financing and payment facilities and has taken a significant step by partnering with ABHI. The comprehensive financial solutions provided by ABHI are designed to offer United King with cash flow stability and financial flexibility, improve their employees' financial well-being, and reduce their financial stress.
The comprehensive financial solutions provided by ABHI and benefitted by United King include:
AbhiSalary: United King's employees can access a portion of their earned wages before their next payday. This benefit helps employees to access their earned salaries and make financial decisions anytime, anywhere.
AbhiPayroll: United King can process their employees' payroll on-demand to any bank account in the country and access funding based on their payroll in advance, helping them to pay their employees on time.
AbhiFactoring: United King can access instant financing from ABHI based on their current invoices. This helps United King to improve their cash flow and reduce their financial stress.
AbhiPay: United King can receive their payments instantly from their customers via the instant payment gateway, avoiding 2-3 day bank settlements and ensuring timely payments.
"We are thrilled to partner with ABHI for their comprehensive financial wellness solutions," said Mr. Sheikh Muhammad Tehseen, CEO at United King. "ABHI's solutions are designed to offer financial flexibility and stability, which is critical for our operations and employees' well-being. By partnering with ABHI, we are demonstrating our commitment to our employees' financial well-being and offering them the best possible benefits."
"We are to offer United King with our comprehensive financial solutions," said Mohammad Zaidi, Director of Business Development & Sales at ABHI. "At ABHI, we are committed to offering innovative financial solutions that help businesses and their employees to manage their finances more effectively. By partnering with United King, we can help them to improve their operations and reduce their financial stress."