ABHI And Lucky Textile Mills Limited Join Hands to Provide AbhiSalary to Employees, Demonstrating Care for Employee Well-being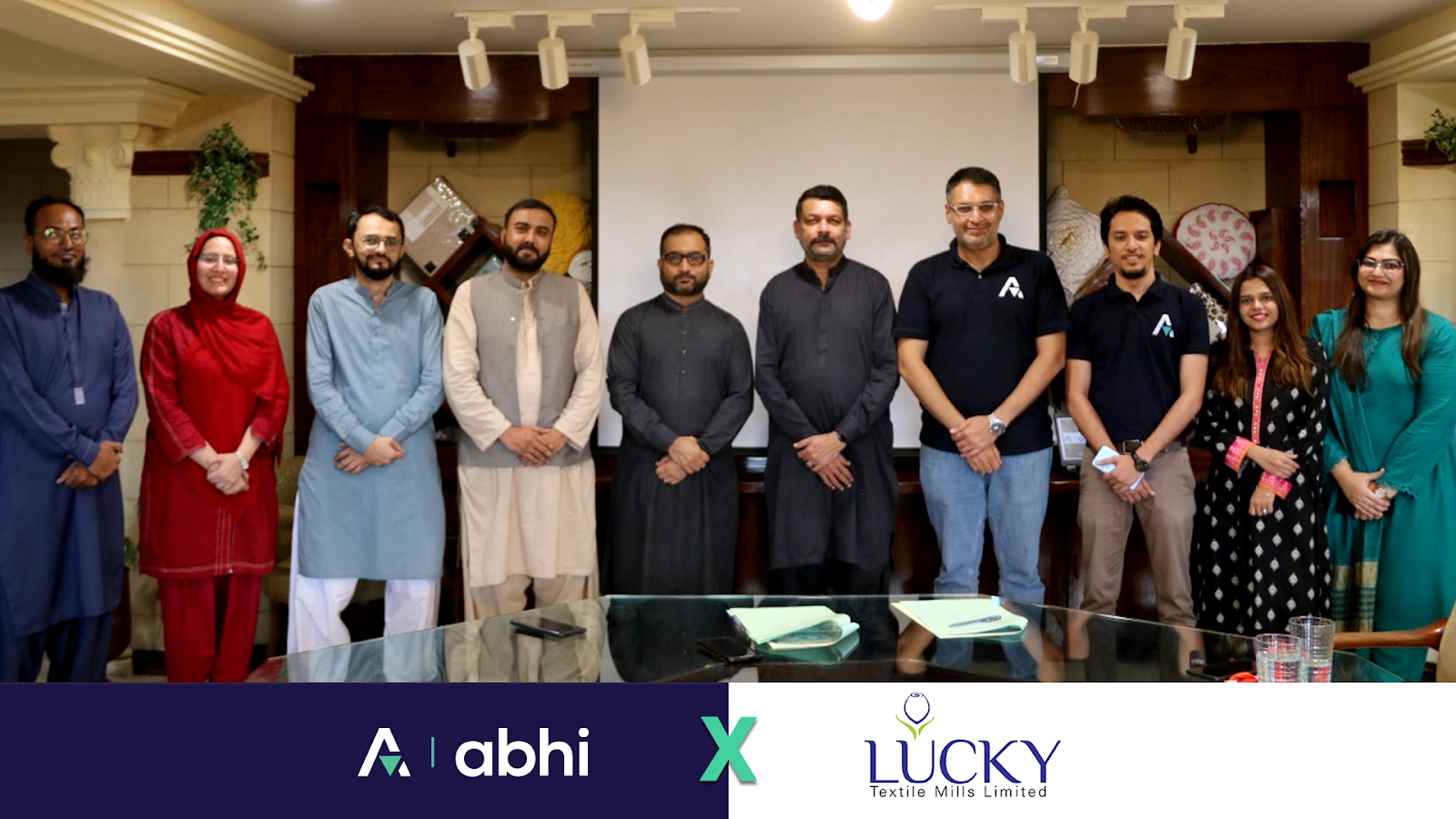 Karachi, 15th August 2023 – ABHI, a leading fintech company, has announced a groundbreaking partnership with Lucky Textile Mills, a renowned textile manufacturer, to provide AbhiSalary to its 5,000 employees. This collaboration aims to provide convenient access to advance salaries to LTML employees, showcasing the company's unwavering commitment to employee welfare.
AbhiSalary – Earned Wage Access allows employees to access a portion of their earned wages before their official payday, empowering them with greater control over their finances. This service provides a safety net for unexpected expenses or emergencies, ensuring that employees can meet their financial obligations without resorting to expensive loans or incurring high-interest debts.
In today's fast-paced world, where financial well-being plays a crucial role in overall happiness and productivity, ABHI's innovative earned wage access platform comes as a much-needed solution. Employees often find themselves grappling with financial challenges, which have been identified as the number one cause of stress in recent times. Recognizing the importance of prioritizing employee needs and financial well-being, Lucky Textile Mills Limited has taken a significant step towards ensuring the financial security of its workforce. By partnering with ABHI, a recognized leader in innovative financial solutions, LTML is poised to offer its employees a reliable, hassle-free, and flexible Earned Wage Access service.
"ABHI is thrilled to join forces with Lucky Textile Mills to offer the service of earned wage access to their dedicated workforce," said Mr. Mohammed Zaidi, CCO of ABHI. "We understand the immense pressure individuals face due to financial constraints, and our mission is to provide them with the tools to achieve financial stability. By granting employees timely access to their earned wages, we are fostering financial empowerment, enabling them to meet their financial obligations and pursue a more secure future."
"We believe that our employees are the backbone of our success, and their well-being is of utmost importance to us," stated Mr. Ahsan Fareed Paracha, Adviser to the Management of Lucky Textile Mills Limited. By collaborating with ABHI, we aim to offer our employees a valuable financial tool that not only addresses their immediate needs but also fosters a sense of security and trust within the organization.
The partnership between Lucky Textile Mills Limited and ABHI signifies a shared vision to cultivate a supportive work environment that values the needs and aspirations of employees. The company is setting an example for the industry, showcasing how organizations can play an active role in addressing the financial challenges faced by their workforce. This collaboration serves as a testament to LTML's dedication to its workforce and its continuous pursuit of innovative solutions that enhance the employee experience.
About Lucky Textile Mills Limited:
Lucky Textile Mills Limited is a renowned textile manufacturing company with a strong commitment to quality, innovation, and social responsibility. With a diverse product range and a global footprint, LTML has established itself as a leader in the textile industry. The company remains dedicated to fostering a supportive and employee-centric workplace culture.
About ABHI (Pvt) Ltd:
ABHI is an embedded finance company that provides instant credit facilities to businesses and their employees. ABHI provides a range of financial services such as Earned Wage Access, Payroll Processing, Payroll Financing, and Invoice Factoring to solve cash flow crunches. ABHI is serving over 450 companies and 100,000 employees in Pakistan and envisions financially empowering the nation.